The Expert Commercial Roofer in Arizona
Empower your business with robust roofing solutions from Universal Roofing Specialist LLC. Our decade-long expertise as a commercial roofer has strengthened businesses across Maricopa, AZ.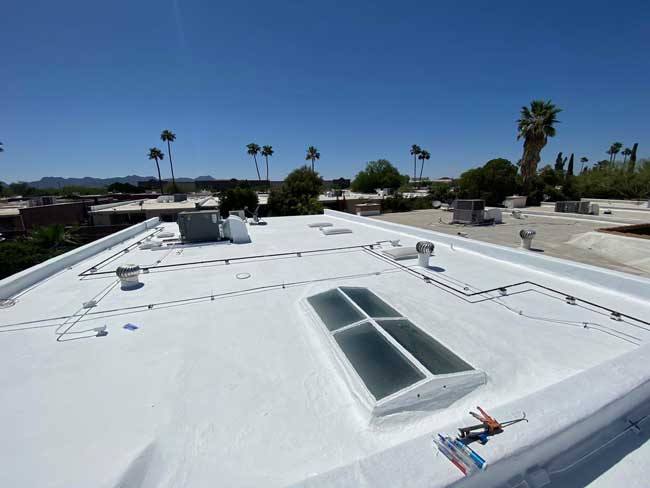 Investment in Excellence for Your Commercial Property
Commercial roofing is a significant investment – an investment in the safety, longevity, and aesthetics of your business premises. It's our commitment to ensure this investment returns worthwhile value with our shingle, tile, TPO, and roof coating services.
Shingle & Tile Roofing
As a commercial roofer team, we understand that every business is unique, just like its roofing needs. Whether your enterprise requires the classic durability of shingle roofing or aesthetically pleasing tile roofing, we deliver precision and quality in every project.
TPO & Roof Coating
Opt for longevity and performance with our TPO roofing solutions, perfect for handling all weather conditions. Further, protect your roof from the harsh elements with our specialized roof coating services, ensuring durability that lasts for years.
We Pride Ourselves in Our Commitment to Safety and Quality
Our stand on safety is uncompromising. As a fully insured and licensed company, you can trust us to strictly comply with all safety regulations and standards while delivering exceptional quality.
The Heart of our Commercial Roofing: Trust, Transparency, and Quality
When you choose Universal Roofing Specialist LLC, you're selecting trust, transparency, and quality. We're committed to working closely with you, ensuring you're informed and involved through every step of our process.
We Are the Commercial Roofer You Need. Call Us Today
Ready to fortify your business with our commercial roofing services? Contact us today at: